Wir sind Charlie - Nous
sommes
Charlie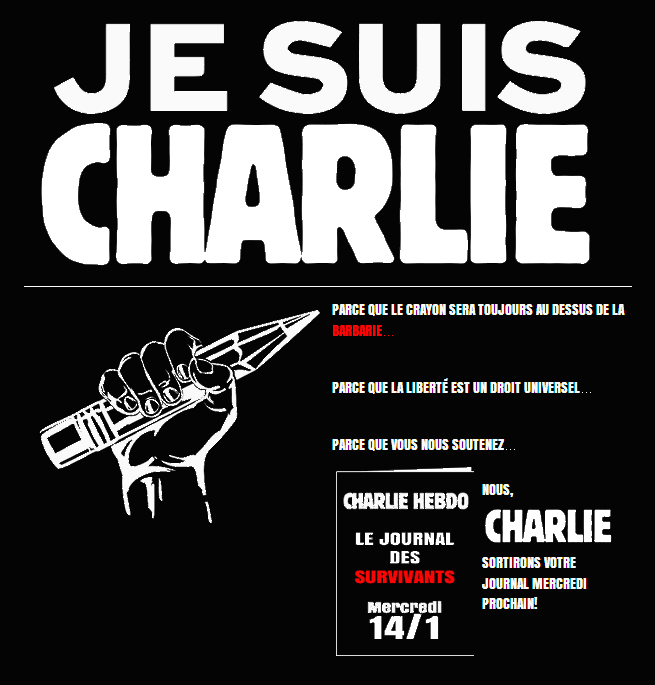 Mit tiefer Trauer haben wir den Terror in Paris erlebt.
With deep grief we have seen the terror in Paris.

Was ist mit den Muslimen los, die zu diesem Verbrechen schweigen?
What is wrong with the Muslims who are quiet about this crime?

Durch dieses Schweigen beschmutzen sie - wie die Terroristen - ihren eigenen Glauben!
With this silence they bedraggle - like the terrorists - their own faith!

Auch die Muslime kennen die Zehn Gebote...
... Du sollst nicht morden!
Muslims know the Ten Commandments too,...
... Do not put anyone to death!

Die Agitatoren und Terroristen von Al-Qaida, Boko Haram, und des IS (Islamische Staat) sind nichts anderes als hirnlose Verbrecher.
The agitators and terrorists of al-Qaeda, Boko Haram, and the IS (Islamic State) are nothing else than brainless criminals.

Ihr Dschihadismus ist ein Verbrechen an der Menschheit und des gesamten Islams!
Their Dschihadism is a crime in the humanity and whole Islam!



*********


Charlie Hebdo issue No. 1178
Le 1178e numéro du journal Charlie Hebdo, dit « numéro des survivants », publié le mercredi 14 janvier 2015, est le premier numéro paru après l'attentat contre ce journal, le mercredi 7 janvier 2015, jour de la sortie du no. 1177.

Charlie Hebdo issue No. 1178 was published on 14 January 2015. It was the first issue after the shootings at the periodical's headquarters on 7 January 2015 which left eleven of the staff dead. The issue was put together by surviving Charlie Hebdo cartoonists, journalists, and former contributors and was prepared in a room in the offices of Libération. [Wikipedia]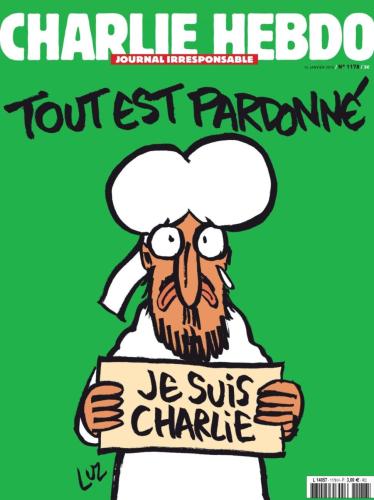 Some of the victims were also Jews:
• Elsa Cayat, 54, psychoanalyst and columnist; she was the only woman killed in the shooting.
• Georges Wolinski, 80, cartoonist, who was born in Tunisia.

... other victims were Muslims:
• Ahmed Merabet, 42, a Muslim police officer of Algerian descent, shot in the head as he lay wounded on the ground outside.
• Mustapha Ourrad (fr), 60, copy editor, an Algerian resident in France for 40 years.



However, we mourn about all victims of this awful crime!
Wir trauern aber über alle Opfer dieses schrecklichen Verbrechens!



Charlie Hebdo,

Merci pour votre engagement!
Thank you for your engagement!
Danke für Euer Engagement!
Спасибо за ваше обязательство!


<![if !supportEmptyParas]>